Recruitment into the DDD study has now finished. We are analysing every child recruited to the study, including those where parental samples were not received, and updates will continue to be be posted here.
The DDD Study has now completed a preliminary analysis for all DDD participants for whom sequencing was successful. DDD research will continue until at least 2021 and we anticipate that a few families will continue to receive new diagnoses during this period as knowledge grows.
COVID-19 ADVICE
Advice for patients with rare or undiagnosed genetic disorders in relation to Covid-19:
Welcome to DDD!
The aim of the DDD study is to advance clinical genetic practice for children with developmental disorders by the systematic application of the latest microarray and sequencing methods while addressing the new ethical challenges raised.
DDD featured on the BBC!
Aired on 25 January 2017: "Child gene study identifies new developmental disorders"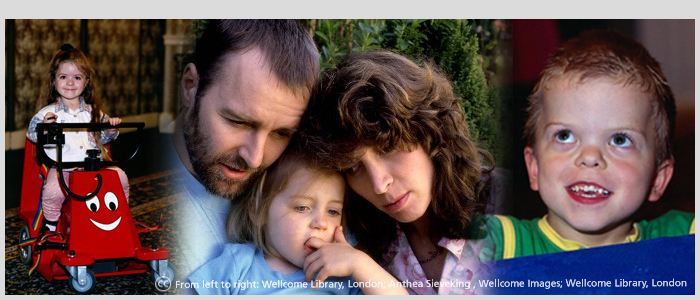 This website is primarily for families who have been invited to join the Deciphering Developmental Disorders (DDD) study by their local NHS genetics service, and want to know more. We hope you will decide to participate in the study.
Beverly Searle, CEO of Unique (Rare Chromosome Disorder Group), says:
"Over many years I have witnessed the frustration and heartache of many families for whom a reason for their child's developmental delay has not been found by looking at their chromosomes down a microscope. More recently I have been delighted to see the relief and joy of other families on receiving a diagnosis for their child lucky enough to have had their DNA tested using array analysis. I welcome the DDD project with its cutting edge array and DNA sequencing technologies since it offers to so many more families, now and in the future, greater hope for a genetic diagnosis and the prospect of information, help and support tailored to their child's genetic disorder."